"Things are only impossible until they're not."–Captain Jean-Luc Picard.
Timeline:
1 week     
Team size:
3 peeps    
 Role:
Ux/Ui designer
Introduction: 
In this project, you will practice your UI skills at a rapid pace without the constraints of conducting user research. The app already has content and users. Therefor you can dedicate all of your time and energy to improving your Information Architecture and visual skills.
Information Architecture:
 The new design should challenge the existing Information Architecture of the content. You may deviate from the original content organization, as well as the navigation logic and sequencing. However, refrain from changing the content. This project does not prioritize new content creation or UX writing.
UI Design:
 As part of the visual redesign, you'll do two things: first, you will reproduce the existing screens because each redesign, no matter how small or big, always begins with an audit of the existing design. Second, you will redesign the app's look and feel. You will be the judge of the extent of your redesign. It might be as simple as updating current components, as complex as redesigning entire screens, or as drastic as redefining the brand's identity. Adapt the scope based on your level of comfort with UI Design, the number of screens you want to change, and the amount of time you have.
Strategy:
 We recommend that you begin your project by conducting a Heuristic analysis of the current app. If something isn't working, you'll be able to fix it with your redesign.
Experiment with new things, step outside of your comfort zone, and use your creativity ...
Well IronHack, thanks for this brief!!! Just by reading it my brain was already on fire. I team up with Sietta Meynell, a dutch graphic designer who grabed my attention in the past projects she has worked on in this bootcamp. I had great feeling about working with her. With a brief with so much fun creative potential, i just needed the right crime partner. Thankfully (for me) she said yes, when i asked her, if she wanted to work together.
We started by brainstorming on what we wanted to achieve with this project. It quickly came that both of us, wanted to really explore and experiment our skills in Ui but nor only. We had really interesting conversations on why this or this app would be a relevant choice for us. As well as what can we bring on top of just the redesign. We agreed to work on Duolingo as we felt that it could full-fill all that we wanted to tackle.
Free of conducting any UX research,(well we still did some, in a way) based on our own experience as well as some friends of us we concluded that Duolingo is a really cool app to lear new languages, it is apparently really appriciated — 4.5 stars , 12 M reviews and more than 100 M downloads from the Android store — we can cleraly say that it is a really succefull app.
Duolingo is a near perfect app for learning new languages in a universally easy way. The UI is instantly recognisable and when going through the brand guidelines a very clear identity is communicated through tone of voice, illustration and design. The duolingo world is inclusive and consists of bright colors and four basic geometric shapes, transporting you back to your first elementary school years when you started learning language as a little kid.
We both downloaded it in the past and started a jouney to learn a new language. We both drop it off for the same reason.
So what could be wrong? 
Well nothing really… except if you don't like the visuals!
The Ui just doesn't suits what i am expecting from such an app. Not that i pretend to be an adult adult but the really "elementary school" over look and the "kidish" interaction, are just not working for me. Sorry Duolingo, you put a lot of effort to create this little world and this is a statment that i deeply respect as a designer. But as a user it s just not talking to me. The all Duolingo univers is based on this copncept, easy , fun and small bites of knowledge. The colors, shapes, caracters, animation every details is teIling you fun, easy and kid style. I really felt infantilised. Easy and fun learning doesn't mean that i must feel like being back in primary school.
That's where we started our challenge: How to keep the clear and fun way of learning a new language but translate it to a "BIG KID" re-design, using a fresh visual language and implementing the biggest UI trends of the moment.
Cloning (Kamino was fully booked, so…)
To have a better understanding of what Dualingo was made of, we started by definding a little happy path that could represent a standard Dualingo experience. We then literally cloned every screens from that path, made a precise inventory of all the freshly created elements and components. We choose Blogger Sans, an open source font, it was really close to DIN NEXT ROUNDED, the Brand original typography. The Duolingo Brand Book, was a major help to understand the brand DNA (concept, characters, shapes, colours, etc.)
Visual competition analysis
We explored the market of language learning apps and we could see two different trends:the first one with a more serious, underwhelming visual approach -Babbel and Rosetta Stone
the second one with a clear kid-style visual approach- Fun Easy Learn.
Those apps on both stores (apple and android) are legions and none are bringing something new, diferenr or fresh. Lucky us that were we wanted to go …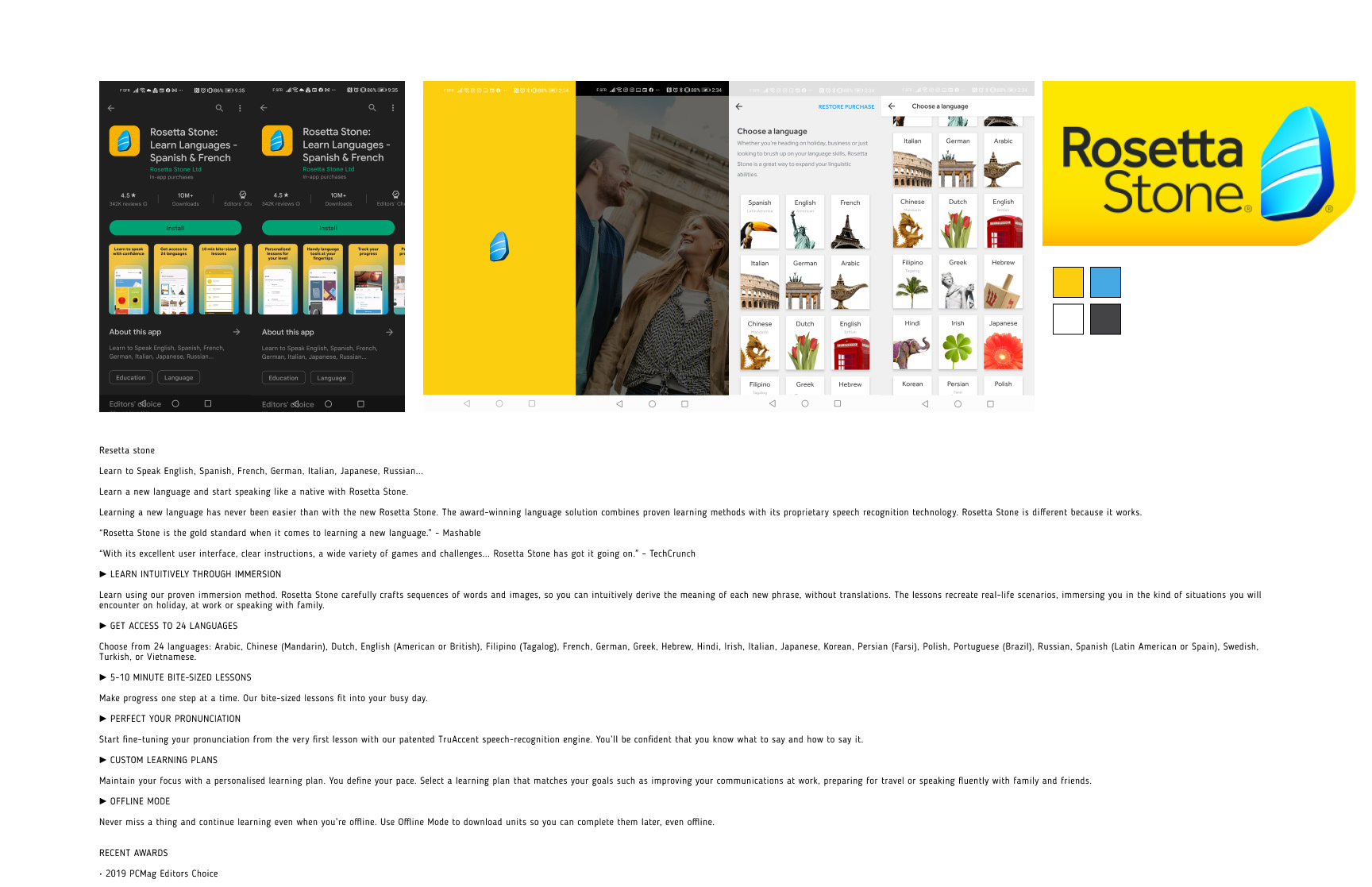 For this phase, with Sietta we decided to fist go back to our initial discussions to see if it was still in line with what we had discovered so far, if it was possible to incorporate all our wishes and what had to be left behind for an other project.
We then went explore the web and collect as much as we could. We both love to work based on a lot of inspirations, it was really cool to share that with someone. For sure we wanted to developed our Figma skills, work with animations and bring a lot of the cool trends that we had founds: Glassmorphism / Y2K aesthetics / unexpected typography / color overload / neon pastels / textured gradients/ micro animation / scrolly-telling / 90s spirit.
We maybe went a bit far with this, but it's what we both wanted for this project. A one week time frame where we allow each other creativity to speak and merge to see how we could explore this new language that is UX/UI design for us.
Communication is today has enter today in a total new eara that make us going back to a form of communication that humanity hasn't used since antiquity. Today, we all interact with digital-hieroglyphs, using emojis. But not only, what we felt really fascinated about it's how on a global scale people are able to share more that words or sentences, more than emotions, but life moments incapsulated into Gifs and Memes, referring to some cultural elements that you are sometimes not even familiar with but still able to understand! And now a lot of them are not a part of our daily comunication as an true, real add on our first language. Maybe we do have there the beginning of an Hearth common language.
Imagine that an out of space life form, was observing our planet and collecting data on how to communicate with us. Maybe we can help them a little bit :
Duolingo is a great tool for learning new languages, the simple somewhat elementary school interface makes adults learn like small kids do. For this project we want to be "BIG KIDS" and go wild on learning new UI design and explore the boundaries of learning a new language.
Outerlingo is an app for aliens to learn Esperanto, as they hope to have a nice conversation with humans at some point.
Let's define some look and feel
Setting: the app takes place in their UFO, which is like a nice nebula consisting of animated textured gradients. Here we will play with micro interactions and new design trends, whilst staying true to the current Duolingo UI and way of practice so it is still recognisable for users.
Sietta with her strong background of graphic design took care to care of the foot choice, we went for combination of a Serif with a Sans Serif style font both open source: -Lora- more calligraphic vibe and married well on screen with -Noto Sans-another with a more global allure, supporting 3,741 glyphs, and 800 languages. This combination fit still really well in the Duolingo design language.