– CANTERBURY'S MOST INNOVATIVE ENGLAND SHIRT –
" 
In a striking innovative twist the rose has been
3D injection moulded
, developed through rapid prototyping technology to standout in a way that merits the significance of the rose for players and fans alike. The shirt also features contoured 'ball deadening' grip placement to complement the players' physique.
On the pitch, players will benefit from a range of innovations, including reduced fabrication weight, minimising moisture absorption for Canterbury's
most lightweight kit ever
.  The
super-enhanced fit technology
, developed through position-specific 3D body-mappingsupports the varied physiques of the modern rugby player.  The shirt also includes
adaptive fabrication
, with dynamic heat management properties ensuring a constant temperature is maintained in any climate to drive the ultimate performance.
Canterbury's traditional yet innovative loop collar design has been integrated within the shirt, having featured on Canterbury sports apparel since 1949.
The 360° loop bound neckline
hasevolved to withstand every physicality of the game, providing resistance to challenges with enhanced elasticity and shape retention, resulting in Canterbury's toughest collar to date. "
Starting this project with  over  hundred years of Rugby shirt manufacturing technical knowledges, we decided with de Design team to keep this strong heritage and push a bit more the innovation to a side they have not  fully explore yet.
I started my researches on the psychologic side of Sport as on hight level practice,  both physicality and psychology as equally important for the athletes, the team and the results
.
By studying  how psychological factors affects performances

 and how participation in sport and exercise affect psychological and physical factors,I came across Amy Cuddy's work.

- Your body language shapes who you are -
- Using Powerful Body Language Can Increase Your Actual Power and defeat your rival -
Across the animal kingdom, this is called:
Agonistic 
behaviour

 is any

social behaviour related to fighting

. The term has broader meaning than aggressive behaviour because it includes threats, displays, retreats, placation, and conciliation. Agonistic behaviour is seen in many animal species because resources including food, shelter, and mates are often limited.

Some forms of agonistic behaviour are between contestants who are competing for access to the same resources, such as food or mates. Other times,

it involves tests of strength or threat display that make animals look large and more physically fit, a display that may allow it to gain the resource before an actual battle takes place

. Although agonistic behaviour varies among species, agonistic interaction consists of three kinds of behaviours: threat, aggression, and submission. These three behaviours are functionally and physiologically interrelated with aggressive behaviour yet fall outside the narrow definition of aggressive behaviour. While any one of these divisions of behaviours may be seen alone in an interaction between two animals, they normally occur in sequence from start to end. Depending on the availability and importance of a resource, behaviours can range from a fight to the death or a much safer ritualistic behaviour, though ritualistic or display behaviours are the most common form of agonistic behaviours.

 - A bigger Yourself = A stronger Yourself -



CANTERBURY OF NEW ZEALAND
The manufacturer with the longest rugby pedigree of the 2015 Rugby World Cup Sponsors, Canterbury of New Zealand, have been making rugby kit for over a hundred years. Therefore, it's not surprising that their shirts for this year's Rugby World Cup, including the host nation's shirt, is the most advanced kit they have made to date.
DEFINING FEATURES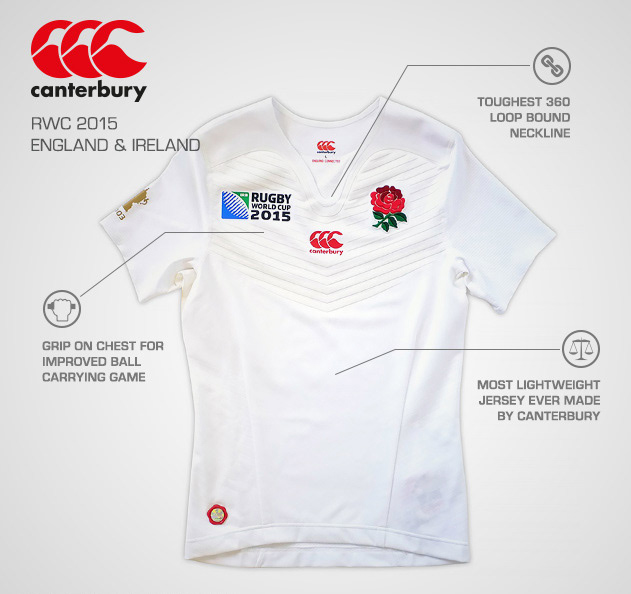 TECHNOLOGY
The host nation, England, and 6 Nations Champions, Ireland,  will be heading into battle wearing Canterbury kit so no expense was spared creating their shirts. Starting from the top, the RWC shirts feature an updated famous Canterbury loop bound neckline. While the shirt is now lighter than any rugby shirt Canterbury has made before, it is also tougher than ever. To the dismay of Jean de Villiers:
Canterbury have also improved the contoured ball-deadening grip on the chest for improved ball carrying and ball retention. The body mapping in the limited elite shirt, means that once you pull it on, it will fit to your shape, meaning each of the limited 2,015 shirts (for England and Ireland) will be unique. We can't wait to see how the shirts hold up on the pitch come September.

DESIGN
The Canterbury design team have gone for a simple and inspiring design on the England and Ireland jerseys. The proud one colour design of the home shirts are uncomplicated and patriotic, aiming to boost the pride of whoever pulls one on. Canterbury has also talked a lot about the 3D injection-moulded crests, which may seem like a small touch but are very striking when you see it in person.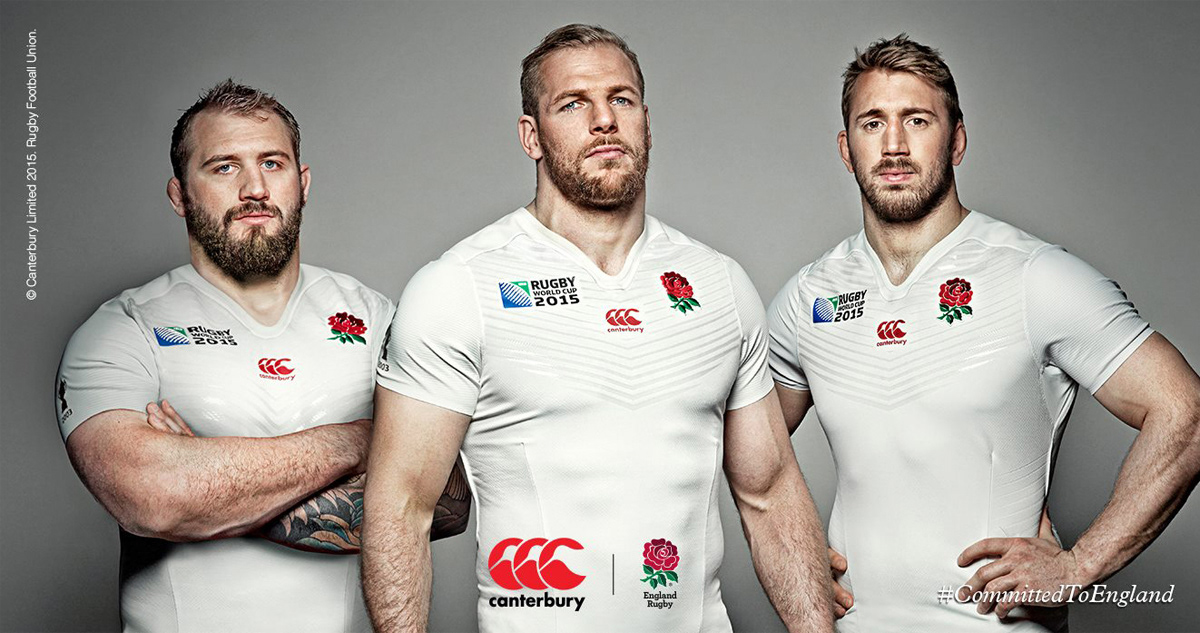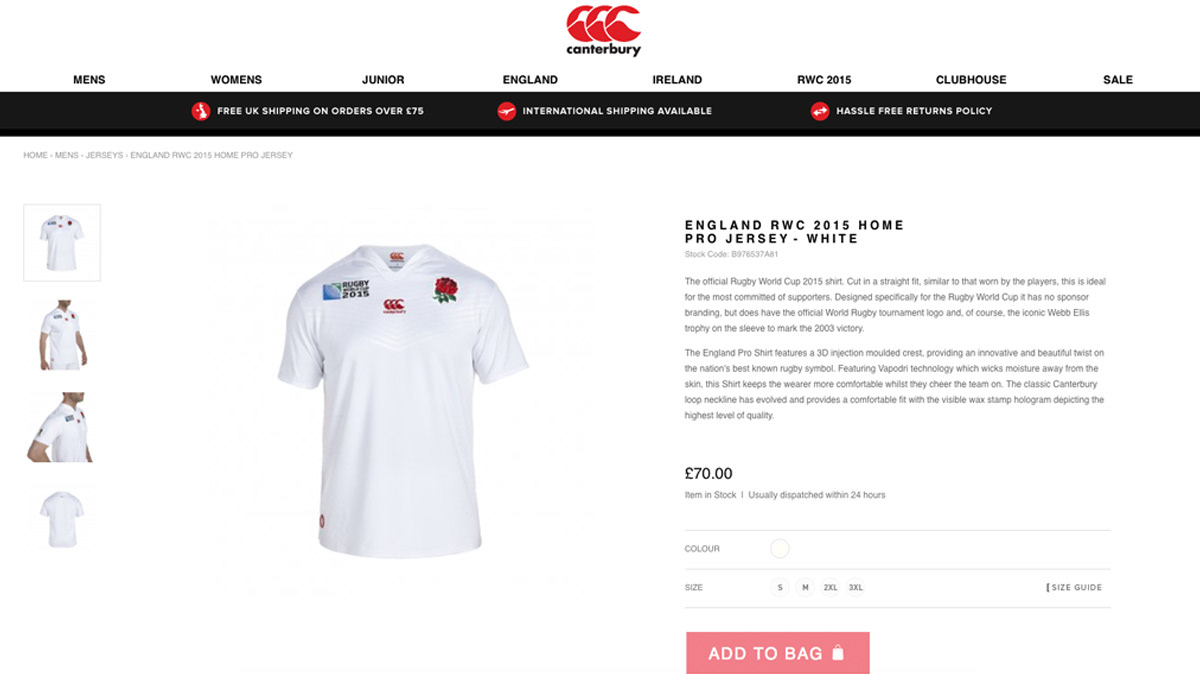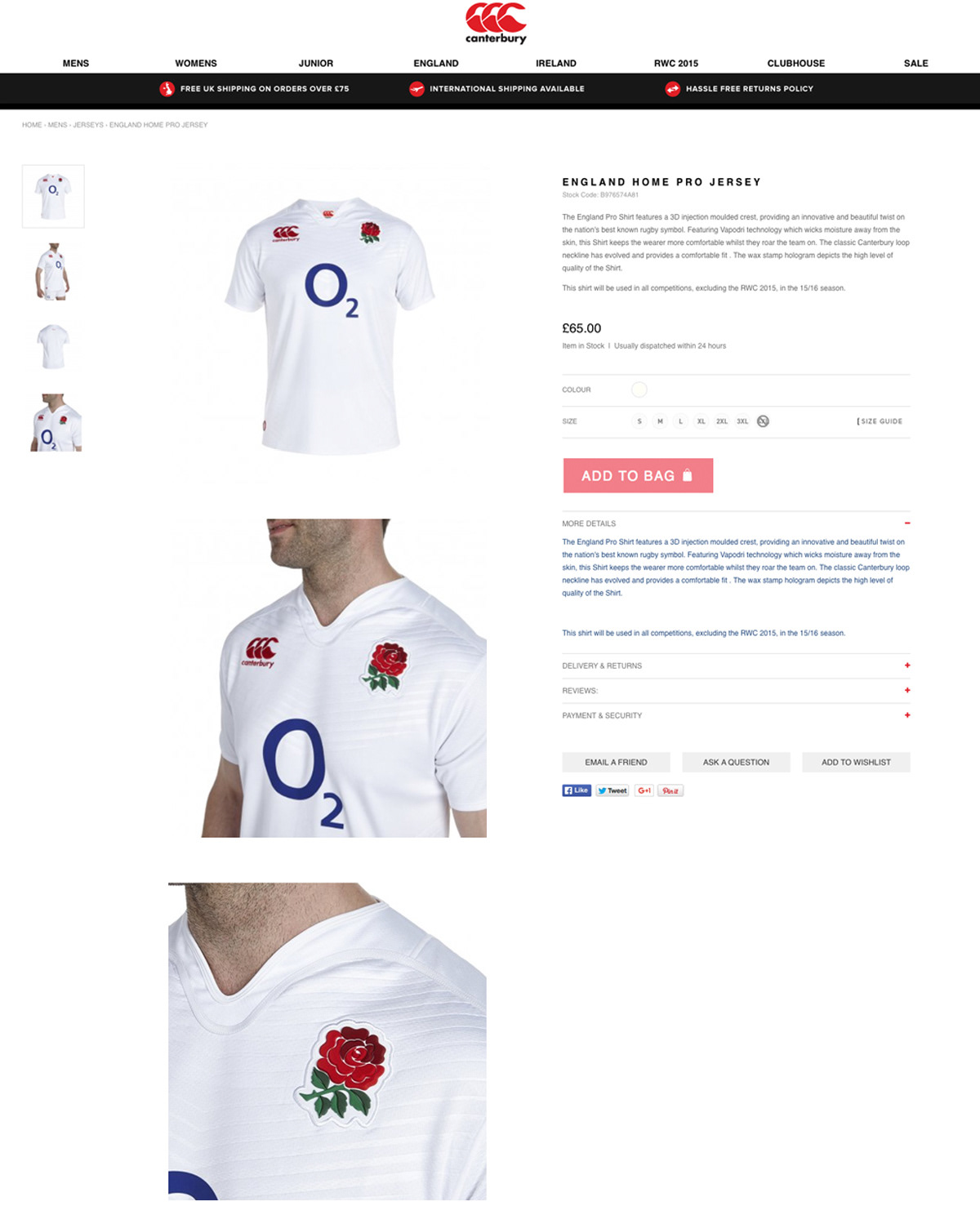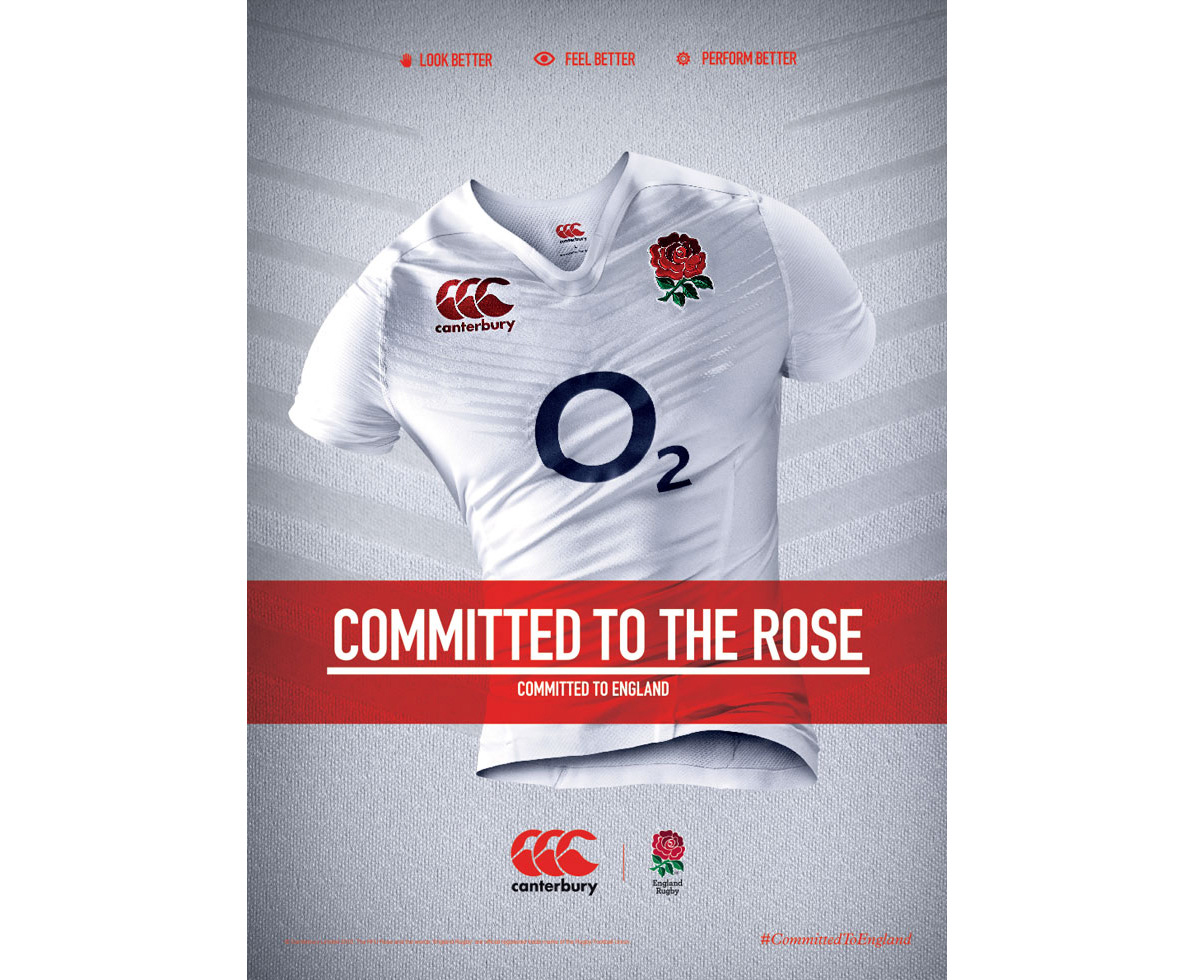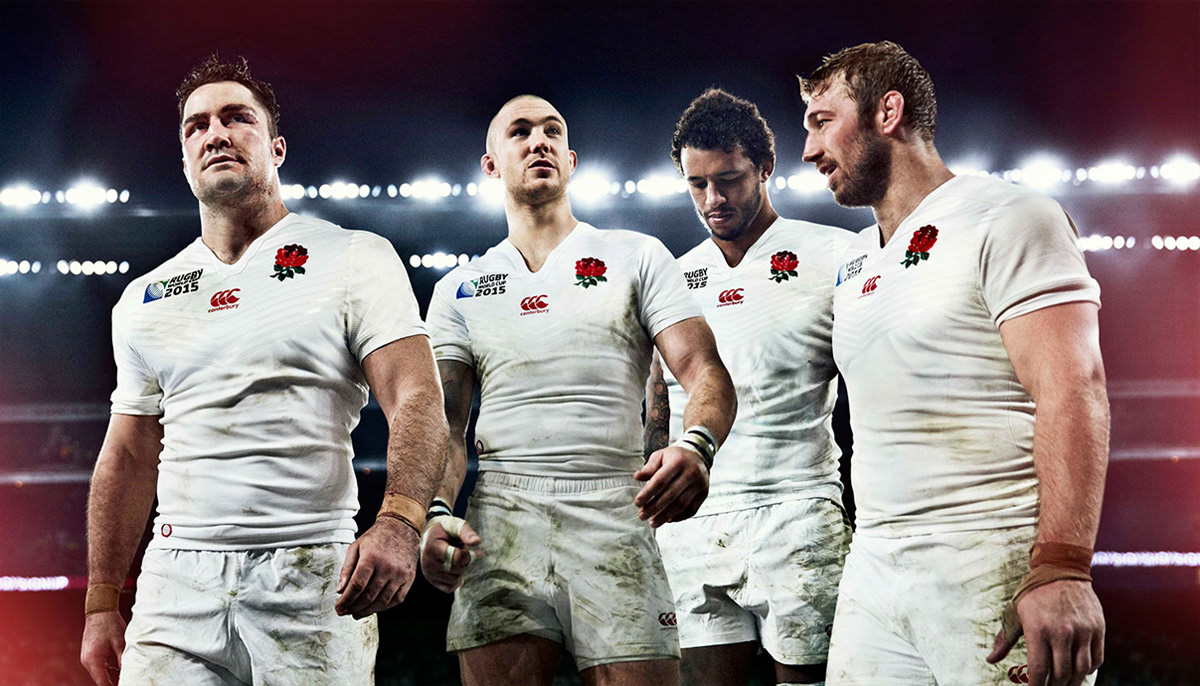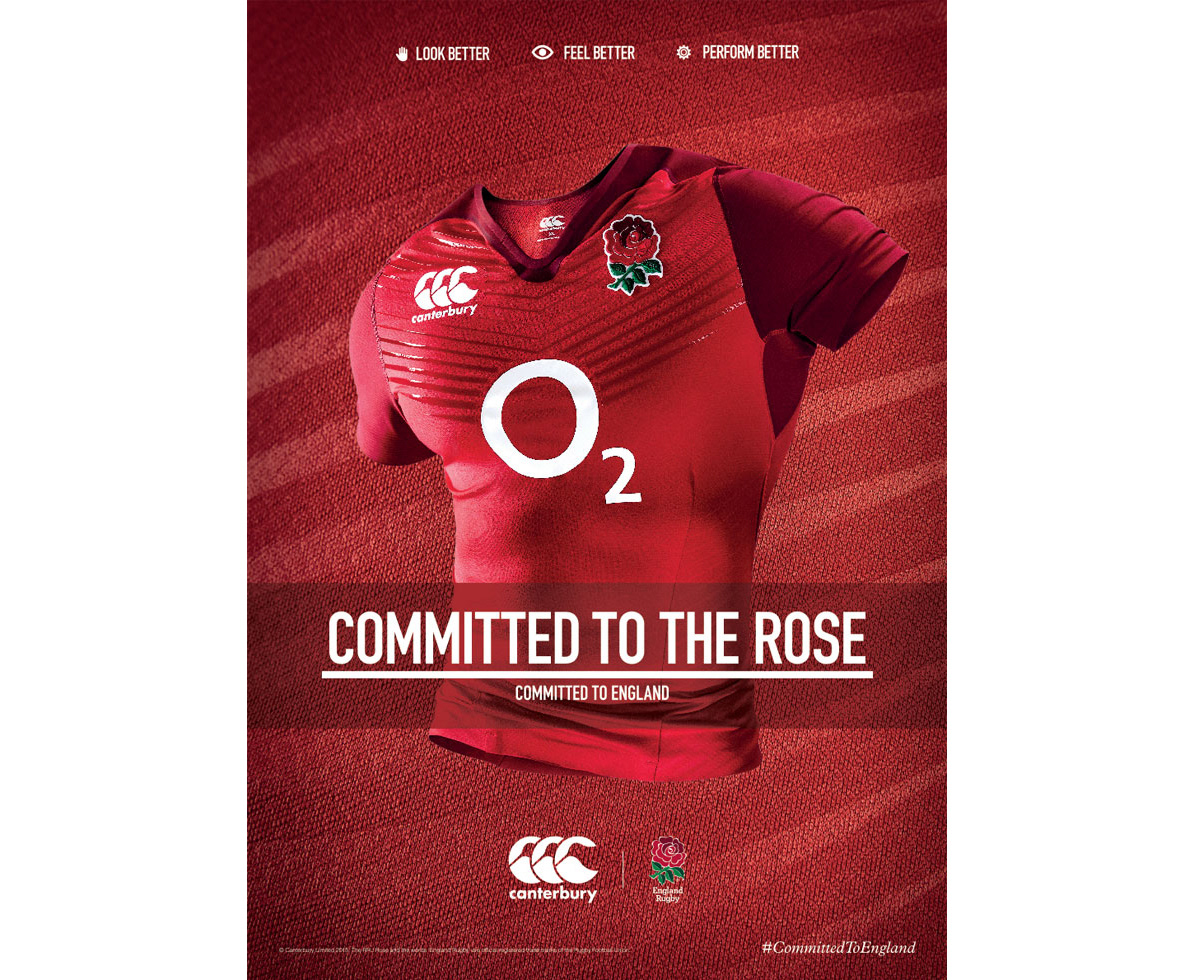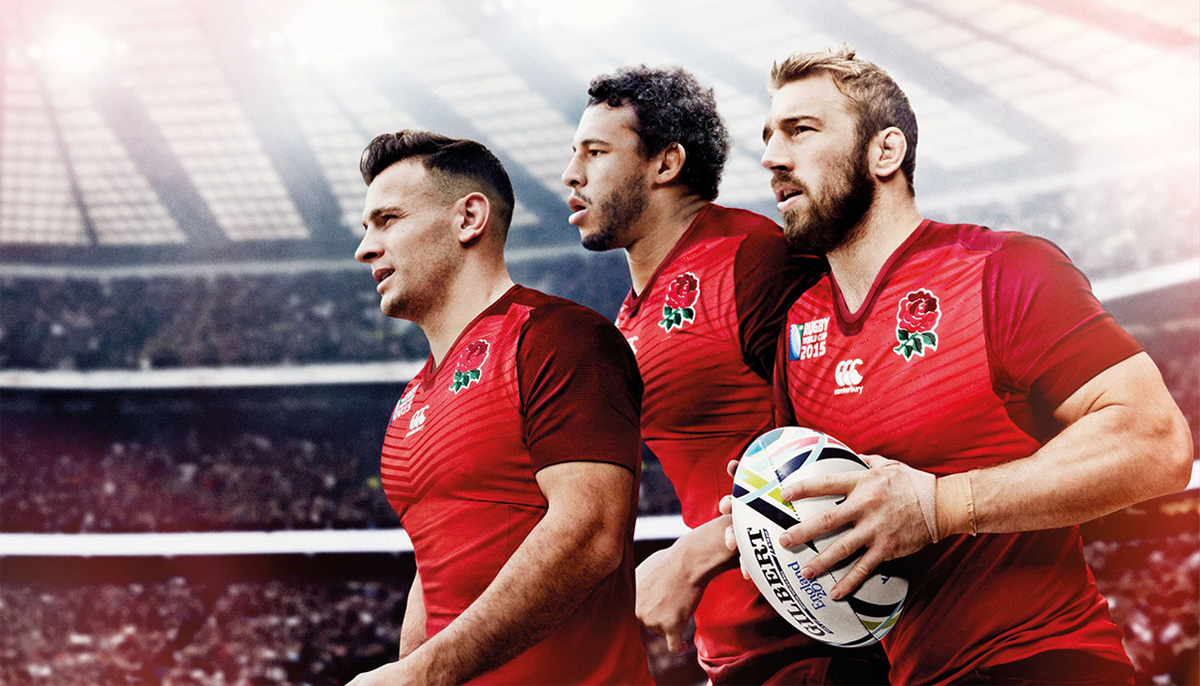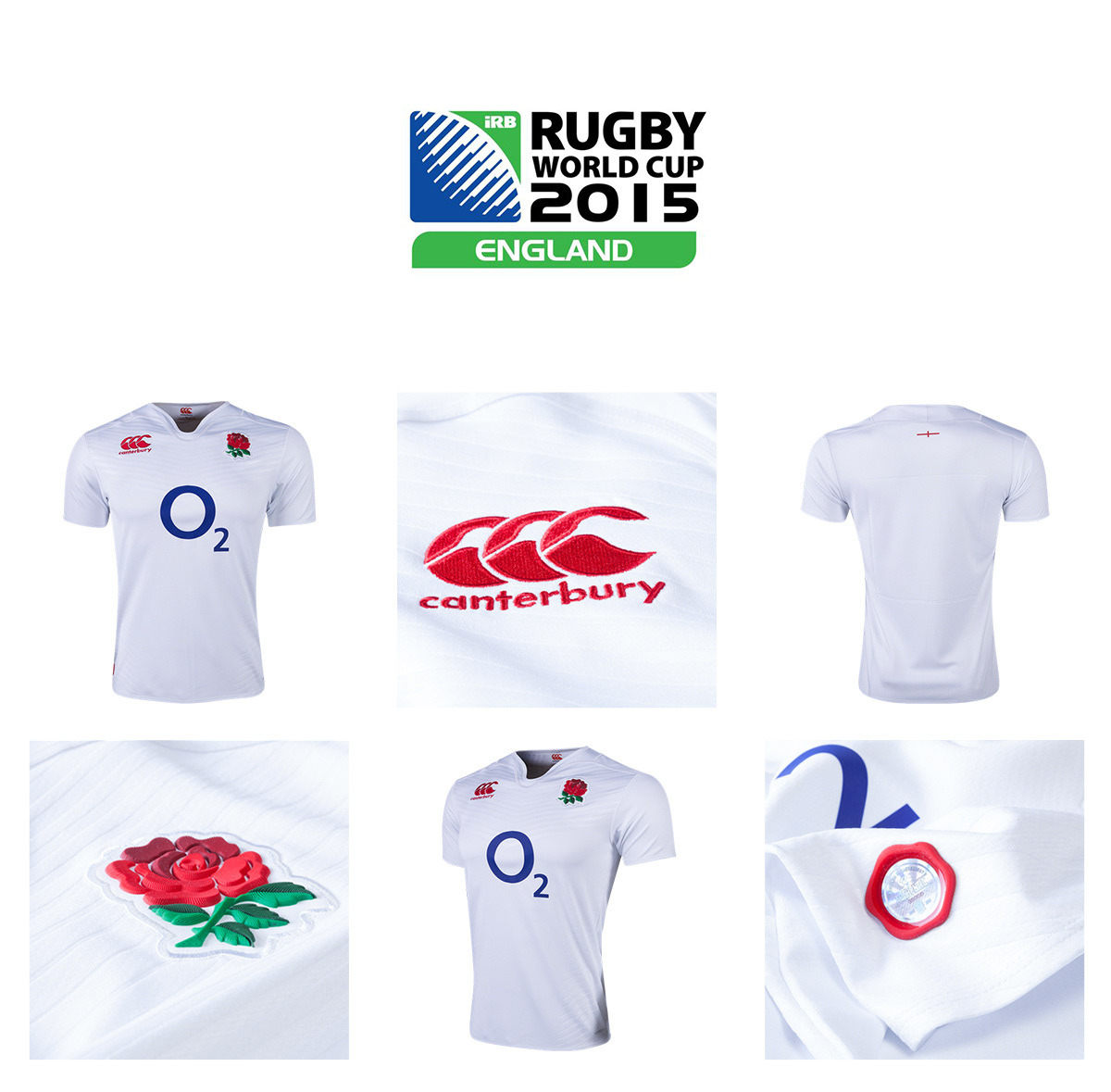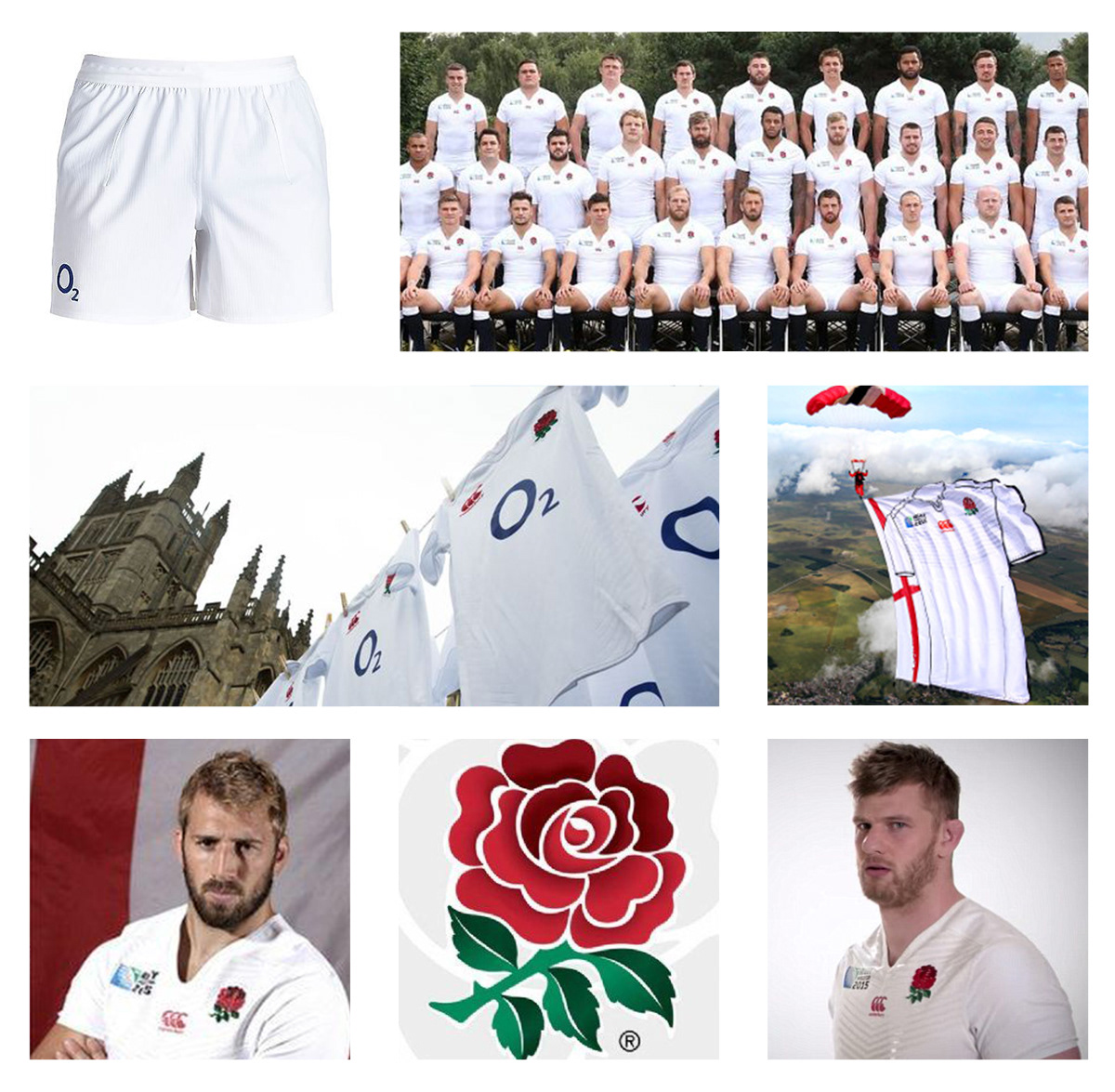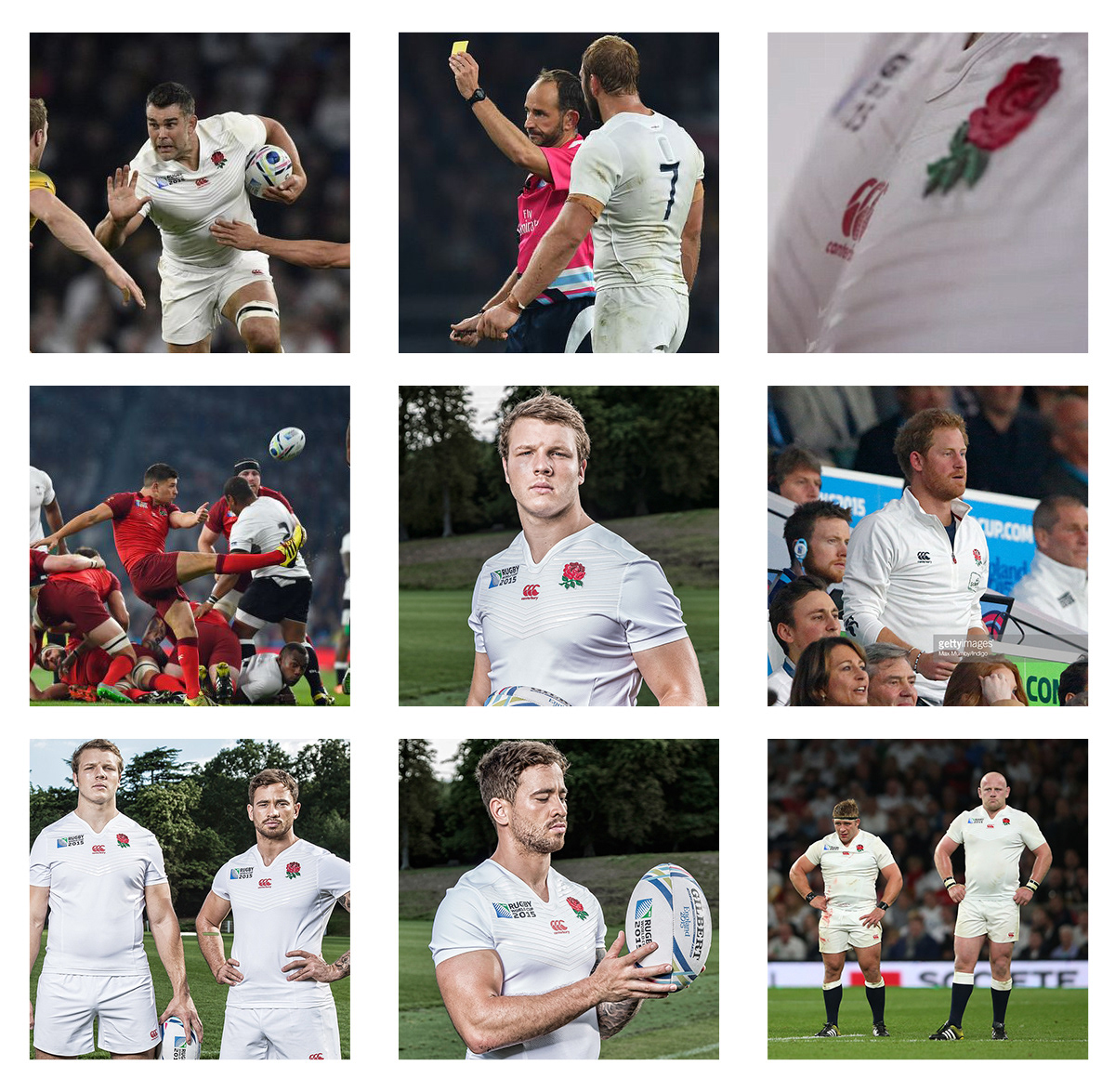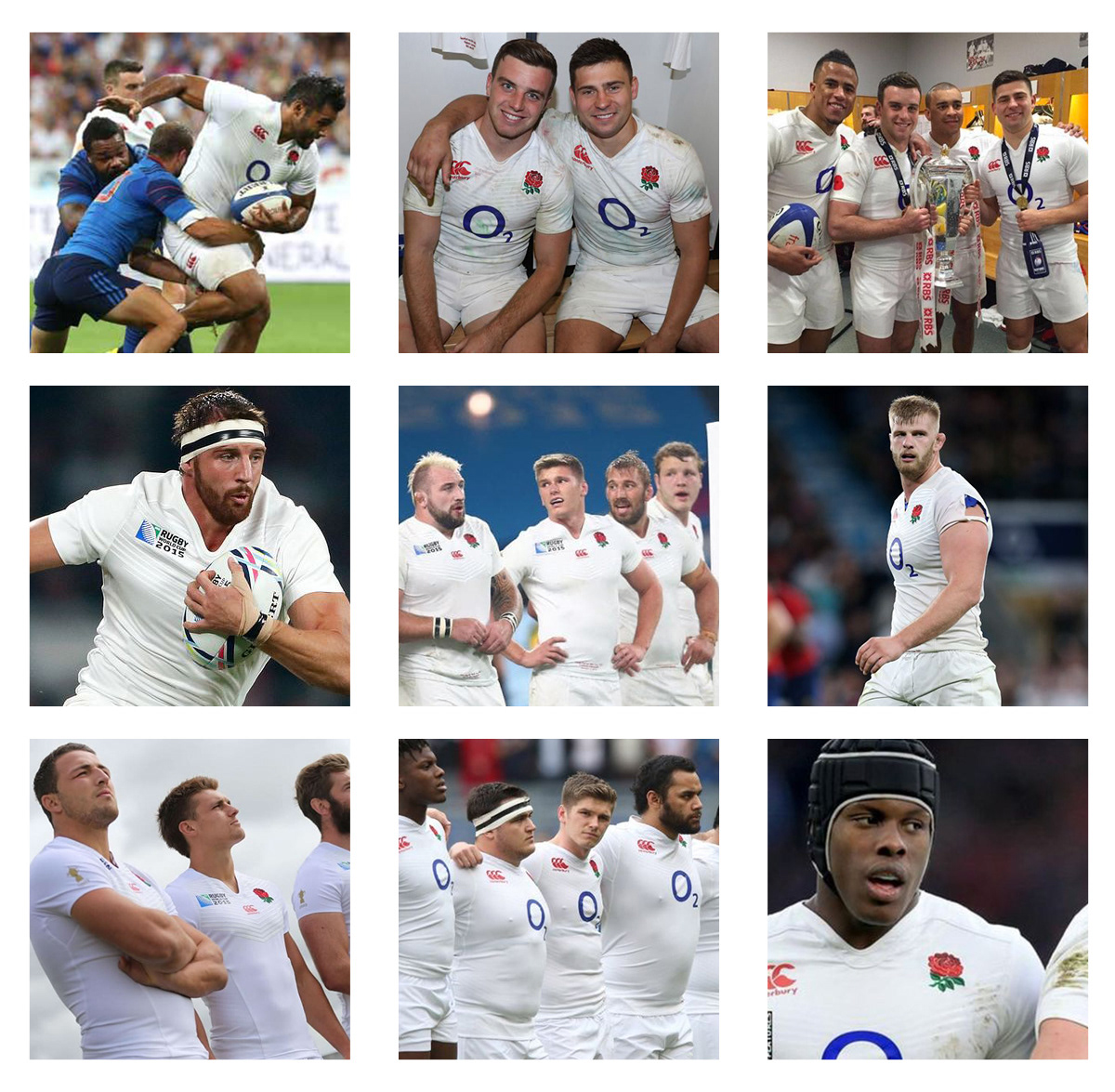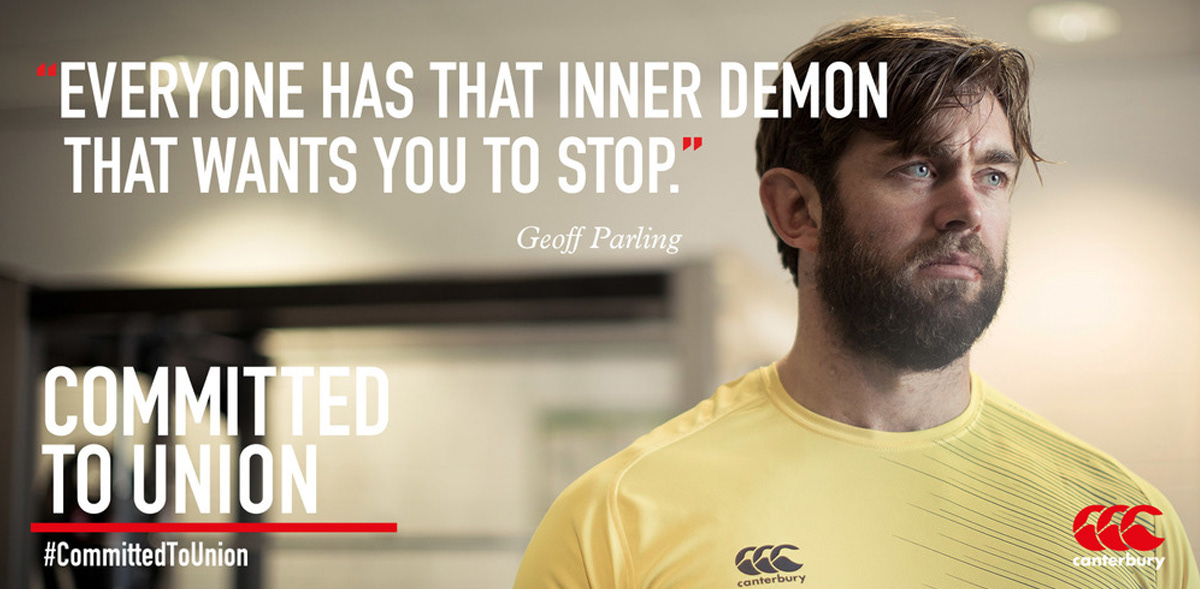 Canterbury training products are specifically designed to boost the athletic power, the comfort, and the freedom of movement of individuals during the training regime. This Vapodri Poly Graphic Tee features the latest Vapodri technology that is able to wick away moisture 75% more effectively than regular cotton construction, but with the same natural and comfortable feel of cotton. This innovative and stylish performance top benefits the wearer with thermal regulation a back mesh panel provides for improved breathability. The CCC logo on this graphic tee is a clear indicator of the wearer's support for the sport of rugby and the Canterbury brand.